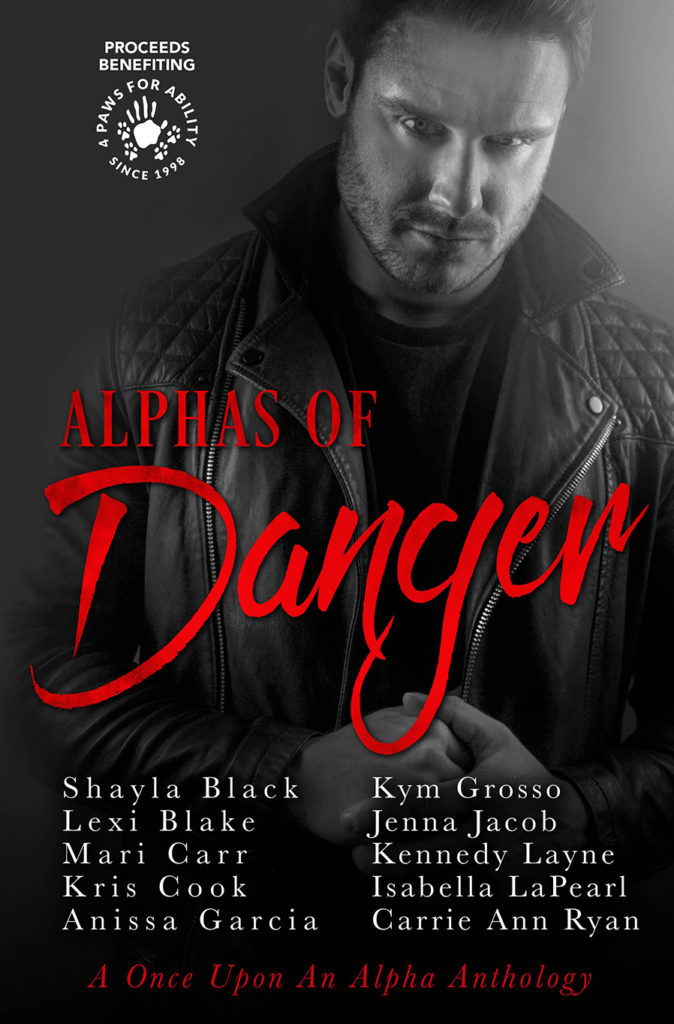 ** 2016's Alphas of Sin Anthology we've raised $5,000 to 4 Paws for Ability! We've been able to sponsor a puppy pen and not one but TWO puppies named Vixen & Frenzy. We will be following the journey of these two puppies to hopefully graduate and become service dogs to a family in need. You can come join our journey on our Facebook page Once Upon An Alpha. We are now BACK with Alphas of Danger with ten bestselling authors and we hope you join us on the journey for 2017's Alphas of Danger with ten never-been-told stories by ten bestselling authors**
COVER DESIGNER: COVER ME DARLING – MARISA-ROSE SHOR
PHOTOGRAPHER – WOODEN GATE PRODUCTIONS
MODEL – JASE DEAN
ALL NET PROCEEDS OF SALES DONATED TO 4 PAWS FOR ABILITY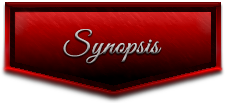 Happy-Ever-After has never been so intoxicating…
Danger…
When a man has beaten it, he becomes a hero.
Lust...
When a woman tastes it, she is helpless to resist his pull.
Love…
It won't come easily, especially between alpha men and their headstrong women. Threats lurk in the shadows, and the price for passion is often exacted with a bullet or a blade…but the sacrifice is worth it when devotion is the reward.
Ten bestselling authors, masters of spine-tingling romantic suspense, bring you brand-new stories that will yank you to the edge of your seat and have your heart pounding as you turn the pages.
Best of all, the proceeds will benefit 4 Paws for Ability, a worldwide agency that enriches the lives of children and veterans with disabilities by training and placing quality, task-trained service dogs.
Stories Contributed to Alphas of Danger:
SHAYLA BLACK - FRISKY BUSINESS
KRIS COOK - CIA COVERT TEAM: RAINBOW KNIGHTS (M/M)
ANISSA GARCIA - WITH A VENGEANCE
JENNA JACOB - REVENGE ON THE ROCKS
KENNEDY LAYNE - SEDUCING DANGER
ISABELLA LAPEARL - ENFORCE HER - A LEATHER, PIPES & PASSION SHORT STORY
CARRIE ANN RYAN - EXECUTIVE INK - A MONTGOMERY INK SHORT STORY
For more information about this nonprofit organization: http://4pawsforability.org/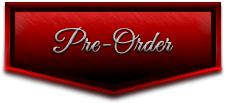 IBOOKS I BARNES & NOBLE I KOBO I AMAZON (COMING SOON)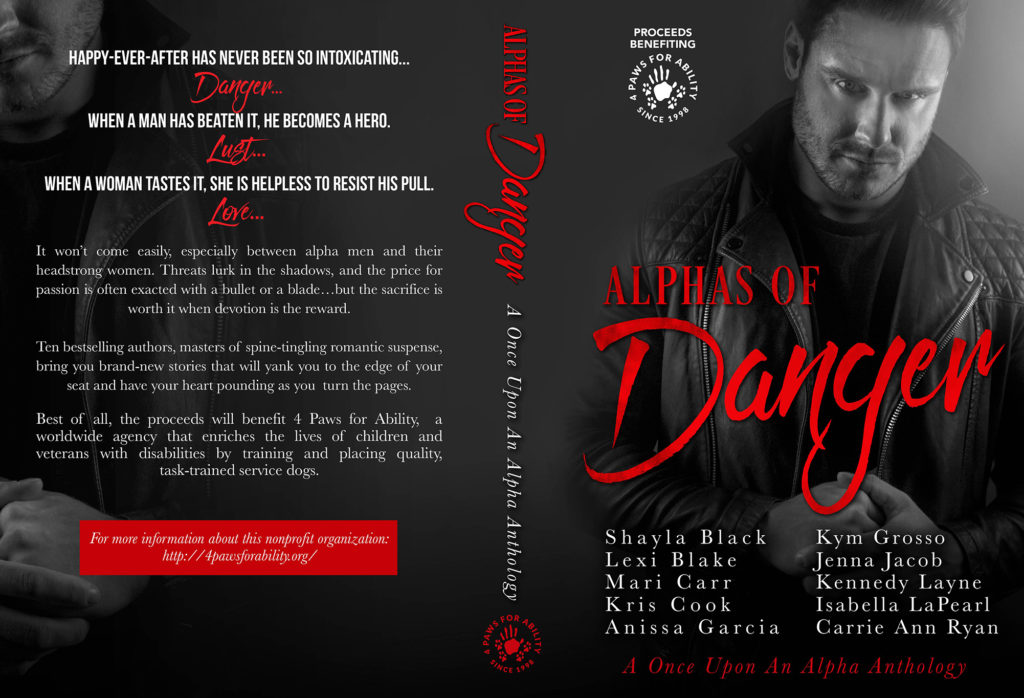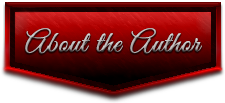 SHAYLA BLACK
Shayla Black is the
New York Times
and
USA Today
bestselling author of more than fifty novels. For over fifteen years, she's written contemporary, erotic, paranormal, and historical romances via traditional, independent, foreign, and audio publishers. Her books have sold millions of copies and been published in a dozen languages. Raised an only child, Shayla occupied herself with lots of daydreaming, much to the chagrin of her teachers. In college, she found her love for reading and realized that she could have a career publishing the stories spinning in her imagination. Though she graduated with a degree in Marketing/Advertising and embarked on a stint in corporate America to pay the bills, her heart has always been with her characters. She's thrilled that she's been living her dream as a full-time author for the past seven years. Shayla currently lives in North Texas with her wonderfully supportive husband, her teenage daughter, and two very spoiled cats. In her "free" time, she enjoys reality TV, reading, and listening to an eclectic blend of music.
WEBSITE I NEWSLETTER I FACEBOOK
LEXI BLAKE
New York Times
and
USA Today
bestselling author Lexi Blake lives in North Texas with her husband, three kids, and the laziest rescue dog in the world. She began writing at a young age, concentrating on plays and journalism. It wasn't until she started writing romance that she found success. She likes to find humor in the strangest places. Lexi believes in happy endings no matter how odd the couple, threesome or foursome may seem.
WEBSITE I NEWSLETTER I FACEBOOK
MARI CARR
Writing a book was number one on Mari Carr's bucket list and on her thirty-fourth birthday, she set out to see that goal achieved. Too many years later, her computer is jammed full of stories — novels, novellas, short stories and dead-ends and she has nearly eighty published works.
Virginia native, Mari Carr is a New York Times and USA TODAY bestseller of contemporary erotic romance novels. With over one million copies of her books sold, Mari was the winner of the Romance Writers of America's Passionate Plume award for her novella, Erotic Research.
WEBSITE I NEWSLETTER I FACEBOOK
KRIS COOK
Though starting in straight erotic romance, Kris's total focus now is on gay romance. When asked why recently, his answer was "My muse finally came out of the closet. Isn't it about time? I've been out since I was twenty-five."
A voracious reader, Kris loves many genres of fiction, but this writer's favorite books are romances that are edgy, sexy, with rich characters and unique challenges. Kris's influences include Anne Rice, JR Ward, Lexi Blake and Shayla Black.
Kris is also the co-host of Romance OUT Loud, an audio podcast that features some of the best voices in gay romance fiction like, Andrew Grey, Damon Suede, Kindle Alexander, Felice Stevens, L.A. Witt, Sarina Bowen, and more.
Kris is married to the love of his life - Stephen.
WEBSITE I NEWSLETTER I FACEBOOK
ANISSA GARCIA
Anissa Garcia earned her Bachelor's Degree in Speech Communications and English. She held an array of jobs including Public Relations Manager for Barnes and Noble. Wanting a change of pace, she attended The American Academy of Dramatic Arts, and trained full-time in theatre for two years. After working in Hollywood as an actress and casting assistant, she relocated to Austin, Texas and began writing freelance for Cosmopolitan and other publications. Her first book, A Promise Kept, is available now. A Promise Made will be available November 2016. When not writing stories, watching movies, or drinking a latte, she loves to daydream about romantic fictional men.
KYM GROSSO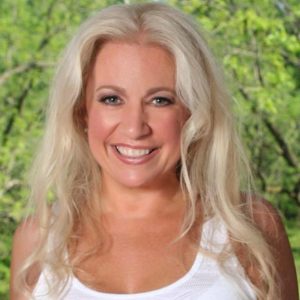 Kym Grosso is the New York Times and USA Today bestselling author of the erotic paranormal series, The Immortals of New Orleans, and the contemporary erotic suspense series, Club Altura. In addition to romance novels, Kym has written and published several articles about autism, and is passionate about autism advocacy. She is also a contributing essay author in Chicken Soup for the Soul: Raising Kids on the Spectrum. She lives in suburban Pennsylvania but has a not-so-secret desire to move to a beach in southern California where she can write while listening to the roar of the ocean. She holds a bachelor's degree from West Chester University and a MBA from Widener University. In a previous life, she was employed as a speech therapist, a health care consultant, and a product manager for a software company. In 2012, Kym published her first novel and today, is a full time indie romance author.
WEBSITE I NEWSLETTER I FACEBOOK
JENNA JACOB
USA Today Bestselling author Jenna Jacob paints a canvas of passion, romance, and humor as her Alpha men and the feisty women who love them unravel their souls and heal their scars to find their happily-ever-after kind of love. Heart-tugging, captivating, and steamy, Jenna's books will surely leave you breathless and craving more.
A mom of four grown children, Jenna and her Alpha-Hunk husband live in Kansas. Jenna loves books, Harleys, music, and camping. Jenna's zany sense of humor and lack of filter exemplify her motto: Live. Laugh. Love. Meet the wild and wicked family in her sultry series: The Doms of Genesis. Or become spellbound by the searing love connection between Raine, Hammer, and Liam in her continuing saga: The Doms of Her Life (co-written with the amazing Shayla Black and Isabella La Pearl). Journey with couples struggling to resolve their pasts to discover unbridled love and devotion in Jenna's new contemporary series: Passionate Hearts.
WEBSITE I NEWSLETTER I FACEBOOK
KENNEDY LAYNE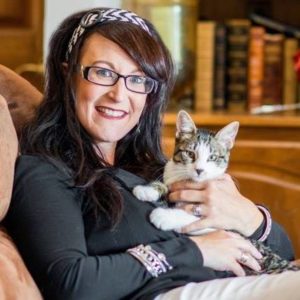 Kennedy Layne is a USA Today bestselling author. She draws inspiration for her military romantic suspense novels in part from her not-so-secret second life as a wife of a retired Marine Master Sergeant. He doubles as her critique partner, beta reader, and military consultant. They live in the Midwest with their teenage son and menagerie of pets. The loyal dogs and mischievous cats appreciate her writing days as much as she does, usually curled up in front of the fireplace.
WEBSITE I NEWSLETTER I FACEBOOK
ISABELLA LAPEARL
Isabella LaPearl is a USA Today bestselling author known for her collaboration with Shayla Black & Jenna Jacob for the Doms of Her Life Series. She enjoys writing sexy, erotic romance. A wife, mother, writer, reader and a love for riding motorcycles. To say it's been an extraordinary journey thus far would be an understatement... what a rush! What a thrill to realize dreams and see them go from a seed to fruition. So for all you aspiring Authors, who like me, have a fire inside that burns brightly and demands to be sated by writing... Never give up.
CARRIE ANN RYAN
Carrie Ann Ryan is the New York Times and USA Today bestselling author of contemporary and paranormal romance. Her works include the Montgomery Ink, Redwood Pack, Talon Pack, and Gallagher Brothers series, which have sold over 2.0 million books worldwide. She started writing while in graduate school for her advanced degree in chemistry and hasn't stopped since. Carrie Ann has written over fifty novels and novellas with more in the works. When she's not writing about bearded tattooed men or alpha wolves that need to find their mates, she's reading as much as she can and exploring the world of baking and gourmet cooking.